Don't judge a book by its cover, so they say… Except that, like most of us, including me, you will probably judge others on social media, based on a single photo!
Maybe your resume rocks. What if your LinkedIn photo sucks? It will harm your digital identity and all of your business efforts, especially if you're looking for a new job.
Sure, you could keep using what you have on-hand, i.e. that candid photo taken by a friend where you look OK. Better than nothing. But the consequences can be as counterproductive as one of the photos exposed below and give a bad impression of you.
Anyway, if you don't know where to start, here are 10 tips to get the professional LinkedIn photo you deserve.
NB: All the photos used below are real photos of some of my contacts on Linkedin. Out of respect, I've blurred the faces so they cannot be identified.
1. No selfies, no webcam!
This man is not a hairdresser!
LinkedIn is not Tinder, nor Facebook! No head hunter or future boss wants to see your face at the end of your extended arms or from your mirror's reflection!
And none of them wants to see you through your webcam either.
2. No avatar or WTF item!
Simply uninspired & tasteless.
You're a real person. You have taste and personality. Why would you hide behind a cartoon avatar, or worse, behind the tasteless LinkedIn dummy icon by default?
Would you like to contact or hire someone who looks like this?
3. Pose like a pro, get dressed like a pro
Why does he wear a t-shirt in front of a radiator?
You may like Disney t-shirts, so do I! But, between you and me, let's keep them in the closet. Recruiters and professionals on LinkedIn prefer standard business attire.
When it comes to clothing, there is no "thinking out of the box". Unless you are a fashion designer or an artist.
In the same order of ideas, you should prohibit any fashion item unrelated to business: hats, caps, sunglasses, short pants or flip-flops… Keep them for your holiday pictures… on Facebook!
4. Be alone on your photo
Why did this magenta-colored face cut out 2 people from his photo?
This sounds obvious for most of us, but no recruiter would like to hire your pet, your BFF or your wife! It's all about hiring YOU and not your close ones.
Also, do not use photos of you hinting at other human beings cut out of the frame.
5. A LinkedIn headshot is all about your HEAD!
This is not a professional skier!
You may have a gorgeous body. Good for you, but that's not LinkedIn's business. Keep it for your Tinder!
And don't get your head lost in the frame! A photo for your printed CV or LinkedIn profile is all about your face, well-centered and proportionate. Keep in mind that a LinkedIn photo is about 300 px wide = there won't be much of you to see if you pose in the middle of a room or landscape…
6. Take care of the background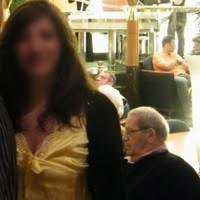 Who the *** are these people behind???
The same way you shouldn't pose with others, you shouldn't pose in front of a crowded background which can shift attention from the main subject: you.
This means for example:
No sea! Unless you're a professional holiday-taker?
No golf course or sports club. Unless you're a professional athlete.
And no green plants taking half the space around you: you're not a gardener, for God's sake!
7. Look straight into the camera
Who is he looking at? Not you obviously!
Have you ever noticed those people who look at anything but your eyes when they shake your hand? Have you ever thought of what this behavior means?
So what do you think of those LinkedIn photos where the subjects look at their feet or a wall nearby? What are they trying to escape? Whatever the reason behind this clumsy, if not rude behavior, this will break any possible connection between you – as a professional and a potential candidate – and the viewer, aka your potential future employer. Is this what you really want?
8. Smile!
Smile, what's the use of crying? You'll find that life is still worthwhile if you just smile…
A smiling face is ALWAYS more attractive than a so-called "serious" one. Period!
Smiling evokes positive energy, trust and approachability. While Americans tend to always smile on their headshots – and for a good reason! – we Europeans, especially the older male managers tend not to smile in order to inspire a so-called seriousness. This situation is in fact so dramatically anchored in our European mindset that women of power tend to copy this and won't allow themselves to smile. In my opinion, this attitude is unfortunate and stupidly outdated. Yes, you can smile and look like a professional!
Why would you seriously not smile?
9. No blur, no filter, no ugly light!
Why this color, this angle, this pose? WHY?
You think that adding some blur or Instagram filters on your headshot photo will make you some kind of an artist? You couldn't be more wrong. Or that converting a poor smartphone color photo to black & white will make it and you awesome? You couldn't be more wrong.
You are free to waste your time and take an average photo… Or you can spend your money wisely and hire a professional photographer who knows his craft, his gear and how to make the best LinkedIn headshot photo for you.
10. An up-to-date LinkedIn photo
Like for an ID card, the point of a good photo for social media is to recognize you at the present time. Sadly, some LinkedIn users do not update their photo as regularly as they should. Either way, these people are not tech-savvy or they do not assume their age.
If you're part of the 1st category, this tells recruiters a simple message: you cannot be trusted on your IT-knowledge, including social media. How could you be if you can't even have an up-to-date LinkedIn photo?
If you're part of the 2nd category, well, just assume who you are: every age range has its benefits! Hiding your age is a dangerous game if you have to meet someone in-person. At best, it will generate a bad surprise; at worst, the wrong impression that you are a liar and that you cannot be trusted as such.
Your Linkedin photographer in Brussels
Did I convince you to upgrade your LinkedIn profile photo and your personal branding? If so, feel free to hire me. I shoot headshots in the Brussels area and everywhere else in Belgium on-demand.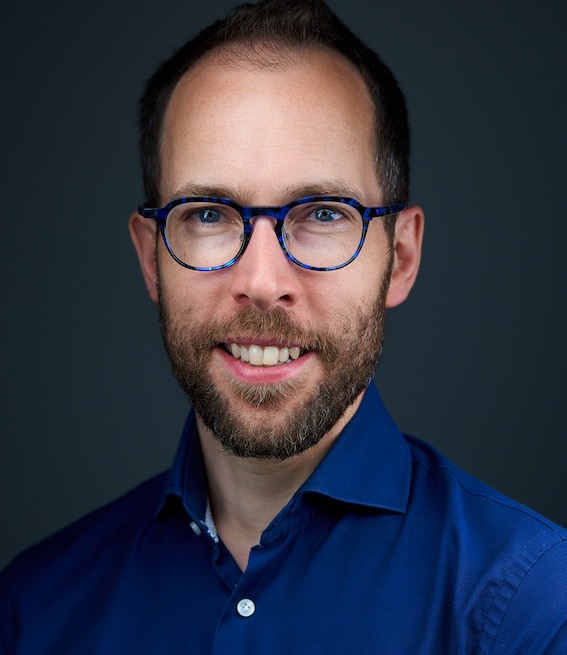 Brussels-based professional photographer, specialized in Events (corporate ; weddings, baptisms…) + Portraits + Architecture.
I offer my services in all Belgium and the nearby countries.